Upcoming Events
Solutions for Life
Starting September 13th
The Fairfield County District Library is excited to bring you a new way to look at personal development values.
---
Every Wednesday
6:00pm - 7:00pm
---
Must Register here by September 1st to attend

Some Topics Include:
• Attitude
• Patience
• Responsibility
• Resolving Conflict
Small group discussions with goal setting & self evaluation
Rachel McCoy
Community Connections Coordinator
Fairfield DD
Scott Campbell
Disability Resource Coordinator/Transition Coordinator
Southeastern Oho Center for Independent Living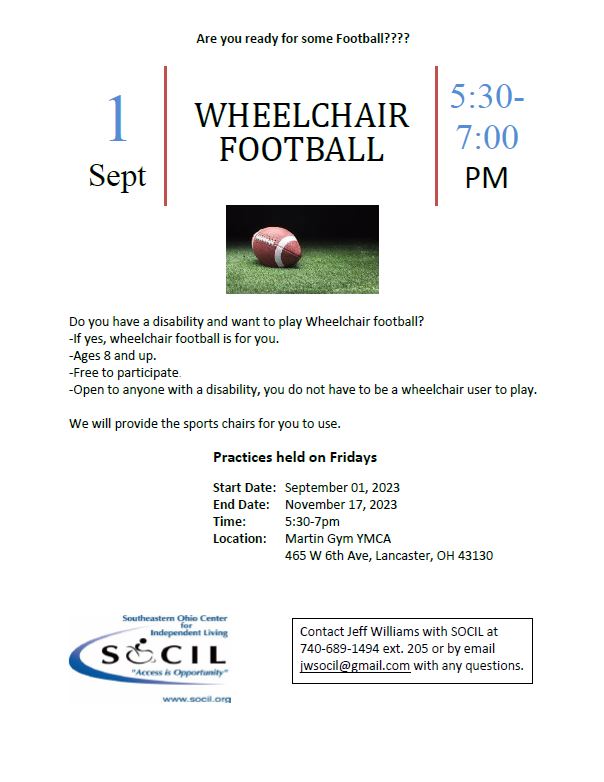 Wheelchair Football
Are your ready for some Football???
---
Every Wednesday
5:30pm - 7:00pm
---
Do you have a disability and want to play Wheelchair football?
If yes, wheelchair football is for you.

Ages 8 and up

Free to participate.
Open to anyone with a disability,
you do not have to be a wheelchair user to play.

We will provide the sports chairs for you to use.
Practices held on Fridays

Start Date: September 01, 2023
End Date:
November 17, 2023
Jeff Williams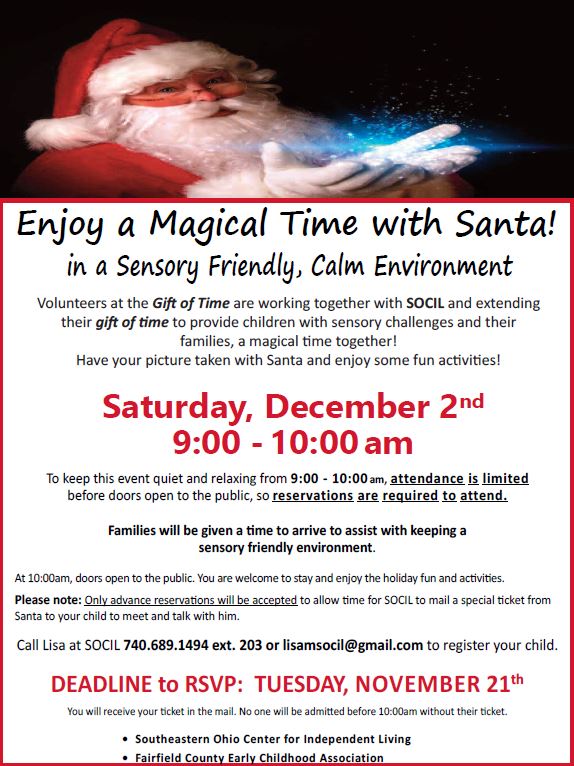 SANTA EVENT
Enjoy a Magical Time with Santa! in a Sensory Friendly, Calm Environment
---
Saturday, December 2nd
9:00am - 10:00am
---
Call Lisa to Reserve your spot
BASKETBALL
All athletes utilize a sportschair to make an even playing field. You do not have to utilize a wheechair on an everyday basis to play. We will teach you how to use the sportschairs and how to play Adaptive basketball.
---
Fridays, December-February
5:30pm - 7:30pm
---
To sign up or for more information please contact:
Jeff Williams with SOCIL
CANCELLATION POLICY: Activities/Programs will be cancelled if the county the program is being held in is under a LEVEL 2 Emergency.